Om Sai Ram

Sri Sathya Sai Parenting Exhibition , Swami Vivenkananda School , Chembur 04.10.04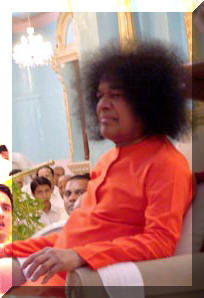 Update – I day of the Exhibition – 3.10.04
Swami says " Did you know that your child is Divine ? Yes He Is. Help your Child to realise his Inherent Divinity."
Parents are the chosen instruments. Parents are the sculptors who mould their children into model of excellence. Parent means pay rent. Children should pay the rent of respect and service to parents, who give them the room they live in called "Body".
Children are born through parents. God makes the the parents the "Trustees". The parents are not owner of the child. Instead, the child is a gift from God to them. Mother and Father are the first examples of social behavior that the child sees before it learns to imitate.
Hence to create an awareness of the Role of Parents, the Sri Sathya Sai Organisation, Mumbai, held an exhibition, "Value Parenting", in Puttaparthi in the last week of June, 2004.
This programme was also held last week in Vashi, New Mumbai. The current Chembur one is the third in the row and it is likely to be taken to other centres.
In Chembur, the Parenting Exhibition was inaugurated on 3rd Oct 2004. About 75 people attended the inauguration. The first day visitors were around 200. Being Sunday many Parents came with their Children. But due to intermittent rains the flow of visitors was disrupted. The recorded feed back of the visitors have been very encouraging . The Press Journalists were invited and collected information about the exhibition

At the entry a small chit is given to each visitor and they were requested to mention the title of the Poster /message which impressed them most and put in a drop box. Some students have made very impressive remarks.
Arrangement for free transport was also done on request .
The Chembur unit of the Sri Sathya Sai Organisation also plans to have an interactive session with the Parents on the last day so that the interface with the Parents could be effectively used to spread Swami's message .
The Chairman and Secretary of the Parents Teachers Association United Forum, Mumbai who agreed to inform their member Parents in and around Chembur to visit the Exhibition. A team of volunteers were sent to many schools for reminding them and also to collect the PTA contact numbers and invite their members for the Exhibition.
---
Posted on 11.10.2004
The Sri Satya Sai Parenting Exhibition at Chembur Vivekananda School concluded as Scheduled. There was a Parents interactive session at the end and the questions of many Parents on Parenting issues were answered. The feed back analysis is being made . The Rangoli of two girls from Sai Colony Ghatkopar was photographed and published in Times of India (Chembur Ghatkopar plus) with the names of the girls with a mention about the Exhibition. There has been a great demand for the Exhibition from different schools. The next venue would be announced by Dharmakshetra .

Om Sri Sai Ram
Help ever Hurt never - Satya Sai Baba
Related Article: