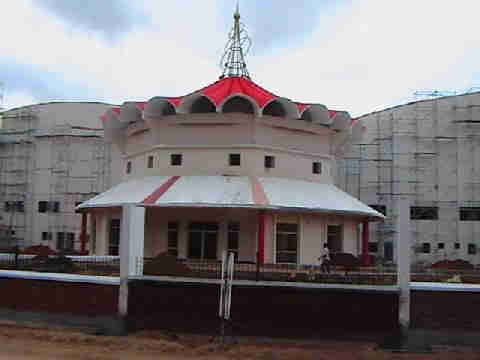 ( The New Indoor Stadium)
11th November, 2006
Om sairam to dear Sai family,
Greetings to all. The atmosphere in Puttaparthi is looking serene and blissful as usual. There are so many things happening in Puttaparthi as part of 81st birthday celebrations and the talk of the town is the new indoor stadium and as a result of which Swamy is giving street darshans almost every day. The stadium is coming out beautifully under the Personal Divine Supervision, Every day, Swamy is giving suggestions, instructions to the engineers who are amused by Swamy's indepth knowledge even in construction. This morning I was speaking to one of the engineers and he expressed happiness and also surprise of Swamy's frequent visits which were full of Constructive instructions.
This stadium with an estimated cost of 11 crore rupees, was initially planned as a 122 days project finished its deadline a week ago and the workers are working day in and day out to meet the latest deadline November 22, the day when this stadium would be dedicated to the Sathya Institute Of Higher Learning, another flower in the garland of the institute, by Swamy, which will also be presided by the President of India, His excellency, Dr.A.P.J.Abdul Kalam and chief ministers for 4 states..
Security arrangements for the VIPs visits has been beefed up.
Another happy news is the Puttaparthi police have banned selling chicken around 9kms in and around this Holy land to maintain its sanctity. Hopefully the authorities will also take a look at the roof top restaurants (right across the ashram) which are running against the interests of Puttaparthi culture where there is unnecessary socialisation and gossip spot
This afternoon there were many people in the ashram premises on the occasion of Akhanda bhajan. Hoping to be awake the whole night, I went to my friend's house for a afternoon nap. In the sleep, Swamy appeared in my dream the car was near the bus station premises, and there was no body around the car and I saw Swamy helping Himself for the seat to come out. I run to the car and before I could see what happened next, I am awake.I could hear Swamy saying, come to darshan immediately to see what happened next. Immediately I ran towards Ganesh Gate and there I see big crowd on either side of the road, waiting for Swamy. Not knowing what happened I asked a cop, is Swamy coming or going (to the stadium)and he said, Swamy iscoming from the stadium. Immediately I ran towards the stadium as it's a nice spot where the crowd is comaparatively less.

We all were standing infront of the new stadium and we could hear loud shouts from inside as if there is a nail biting match going on inside. A tractor load arrived with huge boxes over loaded, VIMAL (a well known suitings and shirtings brand in India) was written on the box, confirming that they were clothes in the boxes. None of us had any idea as what was happening and before we could guess another round of loud applause. I very much wanted to go inside but how? I was saying to my self "Swamy looks like its continuation of my dream. Thank you but do me a favour.. Please let me in!!!! I was right in front of the new indoor stadium gate and here comes a sevadal to me and says, aap student log andar jahiye. Kapade baatne hain (clothes have to be distributed, you students PLEASE go outside) that PLEASE from the sevadal brother was very PLEASING.. and without wasting a second, I ran into the stadium, for the first time, I am entering the premises, tense, happy and thankful to Swamy.

As I enter the large yet to be labourers, who have only heard of Swamy but never seen Him and here He is at their immediate presence.. what a turn of luck. Their dusty faces had a heartful smile which even a millionaire longs for.. their dedication is beyond limits and their torn clothes made Swamy's heart melt. I don't know what the great king Shahjahan gave to the labourers who completed the beautiful monument called TAJ MAHAL, but the King of Kings, King of the whole Universe, our beloved Swamy is here to thank all His chosen children for making His dream of a indoor stadium turn into a reality? He has come here to give them gifts, GIFT of DARSHAN, SPARSHAN , SPARSHAN and also few other suprises.

Swamy has been with them almost every day. And every day there were surprise enquiries made by Swamy to the workers.. just a smile is enough for those hardworking souls and when Swamy speaks to them their hearts jump in joy. The project has recorded Zero accidents from the day one and how can anything happen when our beloved Swamy is with them.
Each person got a pant piece and the ladies got sarees and prasadam. Before I went in I was told Swamy materialized a ring and a chain to two people (labourers) and thus the loud applauds. All of us were very joyfull and after about 40 mins stay Swamy's car slowly moved out just passed me and Swamy gave a sweet smile as soon as the car passed by?. I over take the car and found another good spot, ready for Swamy with joined hands.. This time Swamy looks into my eyes.. just a glance made me feel He is scanned my past, present and future.. and who else can know all these other than our beloved Sai Ma? The car was moving very slowly as it was still in the stadium premises, the car was approaching the gate and Swamy bents a bit down to have a clear view of Sai Geetha's new house..and says something to the driver (brother Sathyajit). He was visibly happy with the building.

The car now comes out on the road and thousands eagerly waiting for a glance of Swamy and Swamy was very cheerful and blessing all the devotees.. I thought let me do my routine, jog with the Master. The car now comes to Sai Geetha who was eagerly waiting for its sweet heart and many devotees know, Swamy's car can't go without halting for at least half a minute.. thus giving a nice chance for all of us to see His blissful form from close angles.... in her hands and offering arathi to Swamy and Swamy just like a child with a beautiful smile and happiness points the grandma to the driver and says something for which all the inmates (of the car) shake their heads in acceptance..

The car now gets closer to the bus station I was at the exact spot where I dreamt Swamy helping Himself? I thanked Him in gratitude and tears rolled down my eyes, not knowing how to thank Swamy for this boon? I still managed to run with car and suddenly Swamy looks at me shakes His head up and down and smiles - the smile which confirmed the dream.. the smile which confirmed the receipt of my thanks giving.. Oh Swamy!!! Please continue to shower your blessings like this on all of us?the car now came to close to the samadhi road, and the driver points towards the samadhi road and says something to Swamy. Just as the car got closer to Sai Towers hotel, and as I was still running with my hands joined Swamy signals ENOUGH and thus ended another beautiful experience at the holy land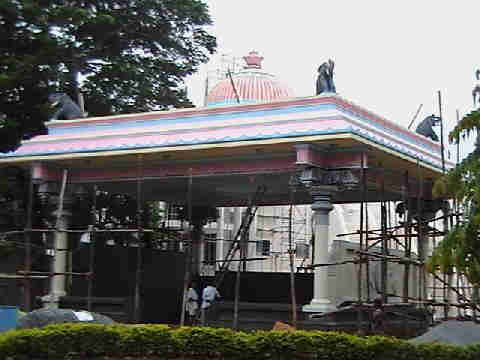 ( Sai Geeta new house )
Exactly at 6pm the Akhanda Bhajan started and Swamy was in Kulwanth hall till 7pm after which He retired to His abode.
With Humble Pranams at the lotus Feet of our beloved Sai Ma, I conclude this email.
Tere charanomein Sai Mere Koti Pranam
Sairam

satish Naik
Puttaparthi