Parthi Update
AUM SRI SAI RAM
BHAGAWAN'S VISIT TO THE SUPER SPECIALTY HOSPITAL
PRASANTHINILAYAM
26/12/2004
Making true the dreams of His children who don the role of caregivers in His temple of healing, the Universal Mother responded a million fold by agreeing to visit and spend some time with them in the hospital. The arrangements for the programs to be hosted on the D - Day have been going on for the past week. The day was bright and nature was at its best when Bhagawan stepped into the premises of the flower bedecked hospital at about 4:15 p.m, on 26th December 2004, escorted to the hospital by the enthusiastic "employees".
Swami's last visit to the Hospital came on the tenth anniversary of the hospital. He also addressed the staff then but this visit was truly special as He spent a lot more time in the Central dome of the Temple of Healing! The highlight of the Divine visit was the loving and informal Discourse followed by Bhagawan attending a dinner session with all the Doctors!
Swami graciously consented to come to the Hospital when one of the senior surgeons repeatedly requested Him to bless the Staff in the Hospital. Though the Lord was so busy with the Christmas celebrations on the 24th and 25th of December, He made time for the yearning 360 staff members on the 26th of December at 4:15 pm.
Despite the fact that the staff are generally busy in their respective departments, they gave all their free time for planning, cleaning, decorating, cooking and practicing various items. The entire Hospital was transformed into a hive of activity! The nurses did most of the work of Floral decorations and Rangoli. A new feeling of motivation filled the air and everyone felt energized like never before!!
All staff assembled in the beautifully decorated Central dome with its huge and imposing Chandelier, sparkling beautifully. Bhagawan arrived at the eastern or VIP entrance as it is known. As the White Mercedes Benz drove in, escorted by outriders on motorcycles who were our staff again, there was a hush and a great expectation filled our hearts! As the Lord alighted from the car, the Director, Dr. Safaya, the Joint Director, Dr. Jagadish Chandran, the Financial Controller Sri Appa Rao and the Chief Engineer Sri Viswanathan welcomed Him with roses.
As soon as the car reached the Hospital, all the staff began chanting Vedam. It was wonderful to participate in a unique devotional chant by all the Hospital members. Beloved Swami was received with the traditional "Purnakumbham" and little children who study in the school in the hospital premises, welcomed Him with traditional lamps. As the Vedic chants filled the air, the Golden moment arrived when His car(t) glided into the Central dome of the hospital.
There is no stage in the dome, so Bhagawan sat at the same level and the administrators sat behind Him. He was calm and in no hurry, so everyone enjoyed the Darshan. Responding spontaneously to the love and affection of the gathered employees, Swami went around the dome blessing everyone and slowly walked back to His chair to light the lamp. The Director, Dr A.N. Safaya then addressed the audience and thanked Swami for coming at this busy period. Dr Safaya welcomed Bhagawan and placed the gratitude of the entire hospital for allowing us to celebrate in His presence. Welcoming the Lord, he spoke about the new, unparalleled concept of Free Tertiary Care in medical specialties like Cardiac Surgery, Cardiology, Urology and Ophthalmology.
Following this, a small music program by the employees created the atmosphere for Swami to deliver His message of Love and what a message it was!! (details of His discourse follows in our next mail). Swami, the Loving Mother was determined to pour out Her Love onto us and His short speech with sweet words of wisdom created an unforgettable impression on every one!
The staff sang three songs that were an outpouring of their hearts. Brother Ravi Kumar, an old MBA student of Swami sang two beautiful devotional songs accompanied by brother Neeraj on Tabla, Dheeraj on Harmonium and Srinivas Rao singing with him. All are old students. The first song was a Hindi song … Jiss Ke Sar Pe Haath Ho Tera…. (The one on whose head Your protective hand is, he can come to no harm ever…). Andari Bandhu Vayya, a famous Telugu song was very appropriate too and shows that the Lord is universal and helps all. The songs reverberated through the dome and each one felt transported to a different level of consciousness. The Nurses' group sang a Telugu song which meant that Lord, You are our Mother & Father, continue to support us and grant us your Protection and Grace.
Thereafter, Dr. Safaya prayed that Swami should bless us all with His Divine discourse and Bhagawan consented. As He rose, He surveyed the group and said that He was unable to meet all of us together since long, but as today was Sunday all could be present. Mentioning the famous quote "Vaidyo Narayano Hari", He praised the staff for being examples and serving the Nation by participating in this Free Hospital. (Details of Discourse in our next mail)
On concluding His Discourse, He spoke to the translator, Dr. K.R. Prasad, an eye surgeon who did an excellent job of translating the Divine Message, though it was only the second time he had this unique opportunity. Bhagawan asked him about his native place and said that He had sanctioned money for a water project so near to the Godavari area, in fact at his native place itself! Asking about his son who is a student of M.Sc. Maths at Parthi, He Graciously materialized a gold chain for the boy and asked Dr. Prasad to go over to the Hostel and put it around his neck. Remote Grace!!
Senior doctors then requested that all staff take group photos while Bhagawan continued sitting. Our hearts raced in delight as we saw Him agreeing to the request. Never has it happened before! Such a great opportunity to crowd around the Lord, though in a somewhat orderly manner and to be clicked …. A memory for ages! A Blessing for life in these times when it is hardly possible to even dream of such chances with Swami. Doctors came first followed by the old students, now Technical officers, then other Technicians, nearly a hundred nurses, engineering staff and others.
The photo session took a while but Swami kept us laughing with witty comments such as "What photographers are these … they don't even say smile, or ready…" It is true that when God decides to give He gives to the fullest ( Jab Baghawan Detha Hai Tho Chappad Phaad Ke Detha Hai...in translation)!! Following the photography session, Prasadam was distributed to the employees. After all the staff, even the sweepers had been photographed, He agreed to go to the Conference Hall where dinner had been laid out for all doctors with Bhagawan and the doctors had a dinner session which many claimed was the best they ever had!!
After a few minutes in the room meant for Bhagawan, that is just adjacent to the hall, He entered the Dining Hall, sat on the Sofa chair and smiled at the seated doctors. The Hall had been richly decorated with roses and tables covered with white cloth. But the highlight of the decorations was the huge backdrop….behind Bhagawan's chair… a massive 12 foot painting of Lord Vishnu (as you will see in the photographs).
A large number of items had been laid out on the table before Him. The doctors savored these precious moments so much that they could hardly partake of the delicacies placed before them. Swami partook of a few items and some fruit. He asked the doctors to leave their cameras and eat. He sat there for nearly half an hour.
All great moments have their end and it was time for the Lord to return to the Mandir. We had enjoyed to our hearts content and had to digest and relive these lovely moments and ponder over His words of wisdom.
As He got into the small car and drove through the corridor towards the eastern door, with all the staff lined up on either side each one felt a pang of grief at the thought of separation. Such is the Lords Company. However much we have of it, we always crave for more of it. It fills us with sweetness and transports us into a sacred world beyond our work a day world of cares, desires and sorrows.
Such is the sweet story of the memorable time we had with Bhagawan at the hospital. All in all, it was a very memorable evening for all the employees of SSSIHMS Puttaparthy, which in its 13 years of service to humanity has been graced on numerous occasions by the Lord, but the latest visit was the best ever in many years of memory!!
Sairam
---
24-12-2004
Dear Brother
Sairam. Let us first of all wish each other a very Happy and Merry Christmas!! Let us rejoice and sing the Glory of our Lord who is right amidst us!!
Christmas is here again, bringing with it bells and candles, cakes and carols. Our boys have been learning Christmas Carols from the past few days to make our presentation on the 25th morning. On the eve of Christams, as you know, the overseas Christian devotees sing Christmas Carols in the Divine Presence. This evening too, they were all seated awaiting the arrival of the Lord. They were occupying the centre block in front of the dais and Bhagawan's Chair had been placed right at the centre of the dais.
Swami came out for Darshan at 3.15 p.m. As the Golf Cart approached the centre of Kulwant Hall, Swami signaled for the cart to stop. Our Merciful and Compassionate Lord had chosen to shower all His Love on our Christian brothers and sisters assembled there. We saw Swami walking on that pathway after so many days. The last time He walked on that path was during the Convocation ceremony.
Swami moved slowly talking to the devotees on either side. On one side were the sisters and the other side our devotee brothers. Bhagawan ascended the steps and sat down on the sofa. The small candle to light the ceremonial Candle was brought to Swami just as He sat down. A little delay and therefore, Swami again had to get up and walk towards the Candle placed in front of the centre Ganesha idol. Swami lit the ceremonial Candle and formally ushered in the Christmas for this year! It was 3.20 p.m.
Bhagawan then came and sat down. He asked the Vedam to make way for the Carols. The chanting stopped and three young kids came forward towards Bhagawan to place their programme at His Lotus Feet. The sister in charge of conducting the Carols for the children took her position and there we were – sweet voices of the children filled the Kulwant air! Star of Wonder Star of Night, Felis Nevidad, O Come Let us Adore Him, Gloria, When the Saints go Marching By, Rudolph the Red Nosed Reindeer and several other Carols set the stage for a wonderful Christmas at His Lotus Feet!
After 25 minutes of young melodious voices, at 3.50 p.m., the elders commenced their programme. Again the Carol Conductor went to Bhagawan and sought His Blessings. She came and took her position. Streams of music charged the hall!! Soft tones of the trumpet and what do we hear? Not Halleluiahs or Glorias but Gananaam Tva Ganapatigum Havamahe….My God, believe it or not, they did a fantastic job! We could see each one of those foreigners chanting the Mantra full throated! This is the miracle of Bhagawan. After all, has He not come for Veda Samrakshana and Veda Poshana!!
The next one hour or so was a treat to all our ears. Lovely Carols charged our spirit and transferred us back in time over 2000 years ago – reminding us of Lord Jesus and His Glory and now here we were seated right in front of the Holy Father!! Was it a dream or reality? Go Tell it on the Mountains, Remind Me My Lord You are There and other hymns sprang forth from the devoted hearts of the singers!! Around 4.30 p.m., they were through, but Swami wanted more! That's our Lord. Offer Him anything with pure Love and He is ready to receive more and more!!
They sang the song – Sai You are More Precious than Silver, Sai You are more Value than Gold, Sai You are more Beautiful than Diamond, Nothing I See in this World Compares to Thee!! Some more carols were sung. All the while, Swami was totally involved in the singing, keeping the beat, not with one hand but with both hands!!
At 4.45 p.m. Swami signaled to them to sing Bhajans. Beautiful Bhajans reverberated in the Hall and in our hearts! At 5.00 p.m., Bhagawan got up and went into the Interview Room. At 5.15 p.m. regular Bhajans by our boys commenced. Prasadam distribution also took place simultaneously. Sweets were distributed to all. Lovely Calendars were served to the overseas singers. Commanded by Bhagawan, Prof. Anil Kumar made the announcement that the next day, at 7.30 a.m., the students of the Sri Sathya Sai Institute of Higher Learning would sing Carols in the Mandir. Wow! That was an assurance for us that we would, indeed, be having the Carols programme!
At 5.45 p.m. Bhagawan took Aarti, got into the Golf Cart and retired for the day. As Swami glided by in the Cart, He was watching the colourful decoration in the Kulwant Hall. There were silver stars hanging everywhere. A red shining cloth covered the front of the projected roof above the dais. In front of the three Gopurams were two angels heralding the arrival of the Lord! Large cut-outs of angels were placed across the first floor facing of the Mandir. Photos of Mother Mary and infant Jesus could be seen decorating some windows!
All of us dispersed, waiting anxiously for the next morning!
25-12-2004 (Morning)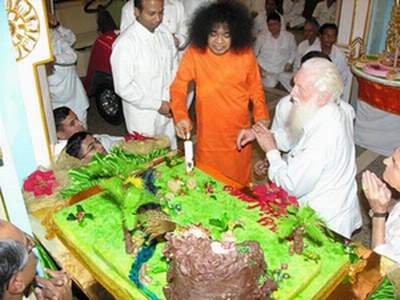 Very Very Happy and Merry Christmas once again. Right from 3.30 a.m. there was so much celebration in the Hostel. As is the trend, the senior boys went around singing Carols and playing music, waking up their juniors into the holy and sacred morning! All of us got ready, had breakfast at 5.00 a.m.(!!!) and rushed to the Mandir. Of course, we were not sure whether Swami would give the early morning Darshan or not, but still all of us were here! The same excitement, the same joy! That is the spirit! All of us could feel His Eternal Presence even in His Physical Absence!
However, unfortunately, the candle light Nagarsankirtan was not there this time. So none of us had any candles in our hands, nor did the overseas devotees. We truly missed that joy. As the Nagarsankirtan started outside, the overseas devotees who were again seated in front like yesterday commenced their humming of the Carols.
Two Christmas trees decorated the stage on either side of Ganesha. They were sparkling with cottony snow, gifts of empty colourful boxes and stars!! In front of the dais, across the railings, on either side, were idols of Joseph and Mother Mary ion the Manger, watching with awe their Child and our Saviour! Very few lights were on in the Mandir. The few lamps that shed light spread a warm glow all around. Silent Night Holy Night – rendered by the devotees added to the serenity of the surroundings. It was a beautiful experience that went on for some time until the Nagarsankirtan group ended their Bhajans outside. With that the overseas devotees dispersed.
We continued to be seated there and changed our positions to suit the Carol singing programme. It was 7.25 a.m., when our Lord was seen in His orange robe, adorning a beautiful, sleek, red colour Golf Cart! Yes, it was a new Golf Cart – looks gorgeous and elegant. And Swami seated in it – what to say! He took a full round of the Kulwant Hall. The cart being very open with no coverings, all were able to have very good Darshan of Swami.
It was 7.30 a.m. as Swami sat down on the sofa. The Institute Brass Band leader went forward and sought Blessings for the programme. The Vedam chanting concluded and the Band boys arose in their starch white – red streaked dresses and shining instruments in their hands. They played several pieces including Jingle Bells Jingle Bells. Each performance was received with loud applause.
At 7.55 a.m., the Primary School boys started their violin presentation. As part of their performance, we had five to six young Santa Claus suddenly appearing. Seeking Blessings from Bhagawan they ran around all over the front part of the Hall showering chocolates and sweets on the lucky ones!
It was 8.10 a.m., when we Institute students commenced our Carol Programme. We sang around 8 carols that kept the programme going till 8.40 a.m. We too had our own Santa Claus running all around the place. Next came Prasadam Distribution. Dates, Chocolates, even Lollipops for students!! Bhajans started at 8.45 a.m. All the while Swami sat on the sofa generating waves of Love and Bliss that swept us away in its infinite tidings!
An announcement was made that Bhagawan would Bless us all with His Discourse this evening at 4.00 p.m. Bhagawan took Aarti at 9.15 a.m. He then went walking around the portico towards the interview room where the cakes were kept for the Divine Cut! Bhagawan Blessed the cakes and then got into the new Vahana that took Him away into His Abode even as the multitudes dispersed away to cherish the bounty of Grace that had been showered on all this morning!!
We'll get back to you with another update on the celebrations in the evening.
25-12-2004 (Evening)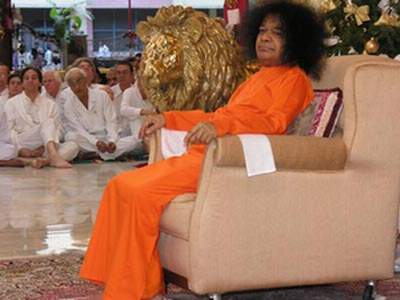 Dear Brother / Sister
Sairam. This evening Bhagawan came out for Darshan at 3.35 p.m. He was seated in the new Golf Cart. It's a beautiful piece of art!! In front, there is a glass (shield) that comes up just till the steering wheel, The sides are open and back too, with two bright red, sleek metal strips going up from back and projecting towards the front. You can see Swami from any side and it looks lovely!
At 3.40 p.m., Bhagawan was walking on the dais. He came close to the idols of Joseph, Mother Mary and Infant Jesus and looked keenly at them. Bhagawan then moved on to speak to Mr. Arthur, head (??) of the Sai Organization in Australia(?). He is the man with a long white beard who is present every Christmas in Prasanthinilayam and coordinates all the activities for the festival.
Then, there was some commotion on the dais. Swami told brother Nitin something. Again He spoke to brothers Arun and Prusty. They were discussing something among themselves. So, something was on but we did not know what was in the offing. As we sat gripped in suspense, suddenly we saw all faces turning towards the Poornachandra Auditorium. What do we see? A brand new car, was coming gliding in, into Sai Kulwant Hall, slowly and smoothly!!
Wow! What is this, we wondered. Swami is here, then who is this coming in the car. As the car approached us, we could see brother Satyajit driving the car. It was a Toyota vehicle and behind was written the model name "Porte". It was 3.45 p.m. Brother Satyajit struggled to maneuver the car between the crowds and the students and into the Portico. Swami was very particular about where it should be parked. This was surprising to us. Why was Swami so keen on where the car is parked? There must be something more to it, we knew!!
The glow on Swami's face and the enthusiasm, with which He was directing the entire affair, clearly indicated that there was something very special about this car. Brother Satyajit drove the car, right across the interview room and taking a U-turn moved it in front of the dais, in the centre and parked it over there with the drivers seat facing Swami.
Bhagawan signaled to Prof. Anil Kumar who was already briefed by Swami as to what he should speak. Prof. Anil Kumar went to the mike and with a jubilant smile and ecstatic voice he announced that a very special new car has just arrived. He said that this is purely God's Will and His Grace!! The car had arrived just this morning from Japan. It has a seat that can automatically turn and project itself outside and lower down for Bhagawan to alight and the same can be done for getting in. It is an honour to this car that it has been offered to Bhagawan!!
Then came the best part! Swami asked brother Satyajit to present a demo to all of us. It was 3.55 p.m. All heads stretched out to watch the wonder! Brother Satyajit sat in the driver's seat and pressed a button. Lo! The door of the car on the other side slid open so smoothly! Then another press of a button and the seat next to the driver, slowly came forward, took a 90 degree turn and then smoothly glided outside the framework of the car. Having glided outside, it then lowered itself and came to ground level and halted!
Brother Satyajit, came out, unbuckled the seat and wheeled it in front of Swami! There was a loud applause from all. Bhagawan smiled and asked him to fix it back again. He took the seat and buckled it back. He took the drivers seat and pressed the button. Just as it had glided out, it raised, went in, took a turn and locked itself in perfect position! My, what a Marvel! Technology and Robotics at its best!!
We felt that finally Science and Technology had seen its fulfillment today as it offered itself, at its best, to its Creator! Could there be a better purpose that it could have served other than facilitating and providing convenience to our dear Lord? If only, S&T were put to only beneficial uses such as these, the world would have been a much better place to live in!
Brother Satyajit drove the car and parked it inside the inner Portico. Meanwhile Swami was talking to Pandit Shiv Kumar Sharma, the Santoor Maestro. The attention again shifted to the dais as Swami came and sat down on the sofa. Mr. Arthur introduced the speakers for the day with Bhagawan's Blessings.
The first speaker was Mrs. Rita Bruce – author of the book 'Vision of Sai'. She is an old standing devotee of Bhagawan and conducts workshops in Sai Parenting and Counseling for Married Couples, etc. Mrs. Rita Bruce spoke eloquently about Dharma for Women. She lamented at the current state of affairs and said that the sacred culture in India too was deteriorating today just as it had happened in the US during the 1940's and 1950's. Seeing the modern trends in India she was wondering as to why we are allowing History to repeat itself.
She highlighted the role of Women in building a home and how important this was when compared to other roles that women were playing today. She quoted Bhagawan on several aspects of Dharma for Women and ended with a small poem that she sang out to all of us.
Before the scheduled second speaker could come over, Swami asked Prof. Anil Kumar to introduce Dr. K.K. Mistry, a devotee from Mumbai, a doctor by profession and coordinator for education and health activities in Sai Organisation of Maharashtra. Mr. Mistry whom we heard for the first time, turned out to be a very good speaker. He held the audience gripped with his structured but yet free flowing talk, sharing his personal experiences. His talk was centered around the fact that the best relationship that we could have with Swami, in his opinion, was that of an old true friend.
Mr. Mistry started his talk with a very powerful anecdote. In the year 2000, the Para Olympics were held in Dublin, Ireland. Para Olympics is similar to the Olympic Games but is held for the physically challenged children around the world. There were around 45000 spectators in the auditorium. The event was a 100 metres race. There were 10 tracks and 10 children on the tracks ready to start. The green signal was given. As the children hobbled along, Fred on Track 6 fell down!!
Believe it or not, when this happened, all the other nine children stopped on their tracks, came over to Fred and helped him get up. Remember, this was a Para Olympics competition event. Having helped him to get up, they all locked hand in hand and together moved towards the goal. All the 45000 spectators stood up and clapped and clapped for a full 15 minutes!! No eye in the hall was dry that moment!! Concluding this story, Mr. Mistry beautifully linked it to our present context and raised the query, "Is this not what Swami is expecting all of us to do?" There was a loud applause!
Mr. Mistry then went on to share his personal experience of how Bhagawan had cured him of a tumor in the passage connecting his nose to his throat. Swami had responded to him indirectly. When he was called inside the interview room with his mother in 1965, Swami spoke to his mother and gave her Vibhuti to eat, by which the son was healed! The tumor was gone!
Towards the end, he quoted George Bernard Shaw who was once interacting with some students. On listening to his most inspiring talk about transformation, one student stood up and asked him as to how one person could change the whole world. A question that most of us ask and many wish to ask but hesitate to do so! George answered, "My dear boy, who asked you to change the world? Change yourself and there will be one less fool in the world!"
He concluded, expressing his gratitude to Swami for having given this chance to share his thoughts on a special day for him – it happened to be his 70th Birthday!
The third speaker was Mr. John Manor(?), a businessman and Chairman of Sai Organizations, Zone II, Latin America and hailing from El Salvador. He spoke about the missing parts of the story of Jesus which have been given to us by Bhagawan in His Discourses. He also shared with the audience, his personal experience of coming to Swami for the first time in 1979. It was Christmas time and Swami was in Whitefield. There was a programme in the College Auditorium after which all seated over there were served rice Prasadam by Bhagawan personally.
Having such an experience for the first time, his wife expressed her thanks to Swami on being served by Him. Swami smiled and said, "No, this is My Duty!!" This was the turning point in their lives. Mr. John wondered, here was the first time that they were coming to see Swami, all the way from El Salvador. He serves them food personally – most surprising!! – and then says that this was His duty!! There had to be something very very special about Him. Mr. John said that in those days he was GM in an organization in New York. He had attended so many Board Meetings but not once had his Chairman ever served him food! Mr. John concluded his talk at 4.40 p.m. Then Bhagawan got up to deliver His Divine Message.
Please await our next mail for details of Bhagawan's Christmas Discourse
---
25-12-2004
CHRISTMAS DISCOURSE
(EXCERPTS)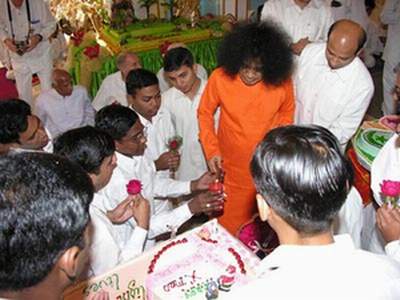 Embodiments of Love, God has no specific Form. He is everywhere as sound, touch, form, taste and smell. There is no place in this world where these senses do not exist. There is no individual without the five elements. Therefore, God is Omnipresent. This is what has been taught since ancient times. You cannot find any place without God. How can you comprehend such an all pervasive Divinity?
Each group of people celebrates the Birthday of their deity and experiences joy. However, nobody can estimate the true Glory of Divinity with any standards whatsoever!
One important point. Every child, as it exits from the womb of its mother, starts it's journey of life with a cry. Why? How do we pacify the child? Place a drop of honey or milk on its tongue and it stops crying. Thus every individual is born with hunger. But you must ask yourself – is it physical hunger or spiritual hunger? Hunger is the same for all. Food may be different. To consume appropriate food and satiate our hunger is our duty. To delight others and ourselves with food is definitely our duty.
God has no form, no beginning, no end. He is beyond and transcendental. Nobody can ascribe a form to the Lord. He is subject to neither birth nor death. He is eternal, ancient. What name can you give such a God?
From water comes earth, from earth comes plant, from plant comes food; eating food man satiates his hunger and thrives. Water can be obtained only through prayer. Any country will plan and strive hard for growing food. For this water is essential and for water, prayers and rituals are carried out. Prayer is essential for rich and poor alike. Man cannot create water or food. God has gifted all these to Nature. God and the World are One, not different.
One must not pray to God in anticipation of any gifts. Pray to God for Him. God will supply all that we need. He knows what, where and when to give and to whom. Even if we do not make any effort, He will surely give us what we need. To desire and then get frustrated when the desire is not fulfilled is not the quality of a devotee.
One example, this happened yesterday. We never asked anybody, nor did I Will any such thing. But you have seen that the vehicle has come. There is no glass or any covering for this. (Swami was referring to the new Golf Cart). You can get down wherever you want. It does not need any petrol or gas (it is battery driven). Where did it come from? Nobody knows. To get something from abroad, one has to pay import duty, excise duty, etc. Who has paid all this? In whose name is it? Everything has happened so smoothly. How?
This vehicle was kept outside Poornachandra. The key was also kept in the vehicle itself. Our students took the key and started it. They were concerned about who has sent it and they were anxious to know how it is to be operated. I told them not to ask such foolish questions. It all happens miraculously!
This vehicle is for short distance but then what about long distance journey? There! another vehicle came from Japan (Swami was referring to the Toyota – Porte). Who sent it? In whose name? How to start it? I told Satyajit – you know driving, come on start it. I told him not to worry, just pray and start it. He started the vehicle, absolutely no sound! He could maneuver it any way!
A week before, there was a discussion among the boys that it is so difficult for Swami to get into the car and sit down. He has to bend, move, adjust and dance around! It is so difficult and leads to so much strain for Swami. I told them to keep quiet and not worry about all this. And now you see this car is here. It had a purpose and has therefore come here!
The seat moves out so smoothly. No rough movements at all. It glides out so smoothly without any jerks. Even the train can run only on the racks. But this seat moves about any way! The secret and mystery of this car is not known to anyone. The seat slowly moves out and rotates. There are many scholarly and learned people who think that all this is their achievement. No. All this is God's Will and not man's maneuvering!!
The Divine Plan and Mystery cannot be comprehended by anybody other then God. Therefore, He Himself has to reveal this mystery. This car has not been asked for. Even the government has not been approached. Many people mentioned to Me that such cars are available, if You Will it, it will come to You. But I do not want anything.
A small boy and his sister were studying in our Primary School 20 years back. Their parents were so full of gratitude that Swami had given their children a seat in our School. It is out of this gratitude that they have offered this car to Me. The children were very intelligent. They have done their MBA and even got a gold medal. It is they who have sent this car as an _expression of their gratitude to Swami.
God knows when and what to give to whom. Relying only on your efforts is useless. Prayer is a must! There is nothing more important than prayer to God. We must not pray for this or that, but we must pray to God, for God. O God – I want Your Love. Through that Love everything can be accomplished. Today, both these parents have come here. 20 years back, the mother used to work in our hospital. 15 years back they had sent another car, with a glass covering. I told Satyajit to drive it out into the stadium. I went along with him in the car for the Sports Meet day on 11th January. (Swami was referring to the SAAB car).
It is only with lot of efforts and applications that anyone can procure such items. We never desired for anything, but yet it has come. Therefore, you do not need to pray for anything. You must just pray – O God, You know what I need, You must take care of me. Offer yourself to God and effortlessly things will come to you!!
Just as these things come here, we also give away in the same way. Once a Rolls Royce has come to Bangalore to be offered to Swami. In those days it's cost was around 2 crores. 2 crores and not two coats!! Inside there was a card with the name and address of an American from Washington. We sent back the car to the same address. It took so much effort to arrange to send back the car to America.
Then came a White Benz car. This was also sent back. All cars were given away free. One was given to the Anantapur Campus for helping them to take sick girls to the hospital. Another car was given away to the Primary School. No money was either given or received. Everything goes on so smoothly. All these are Divine Plans!!
Without asking for anything, so much comes to Swami. Just imagine what will happen if I ask!! But I do not need anything and I will never ask for anything. My only desire is your happiness, prosperity and health. I do not need anything else. I will give you whatever you want. But you must think before asking whether it is really required or not.
We never wanted a big car. A small car would be enough. Just enough space for the Driver and Myself! Immediately, the car came from Italy. But this vehicle had the seat for Swami next to the Driver's seat. Many felt that it was not respectable for Swami to sit next to the Driver. Therefore, the vehicle was sent back to Italy for modification. The driver's seat was placed behind Swami's seat. (Swami was referring to the Lamburgini). If I continue to speak about these cars, the story can go on and on! It may appear strange to all of you! But these are the ways of God!
Pray to God silently, without any desires, with Love. Everything will be added onto you. With Love any task can be fulfilled. Some say that they have been praying so hard but still they are not successful. Here the mistake lies in your prayer and not in the power of God.
With God's Grace anything is possible. My Will is going on and it guarantees and fulfils all! We were wondering what should be distributed to students on Christmas day. Very next day, boxes full of sweets arrived. Again the next day Prasadam was required. And there! Laddus came in plenty. Boys told Me that devotees had already got Prasadam. I told them to serve again!! God's Love is the true Prasadam.
Thus all that we wish to undertake goes on smoothly! Today is Christmas. We must pray to God but we must not misuse the power of prayer. Jesus prayed – O Lord, I am your child. Let Thine Will be done. If you compare yourself with others, then ego comes in. Pray without any ego and you will be successful. God is in your heart! All are God's children. He will give you what you need. He is in our hearts and He Wills from there and things happen!! Pray to God and fulfill your tasks.
When Jesus was crucified, Mother Mary cried out – O Lord, why this punishment? The next day, Jesus came alive again. He declared – I am the Son of God. If we work with the faith that we are children of God then we will surely be successful. Install Love in your heart, surrender to Him. You will be successful in all your endeavours.
Bhagawan's power is the power of Love. Nurture this Love. You will then be able to face any challenges. Do not be hypocrites. One prayer inside and another prayer outside is not god. Swami in your heart will know such hypocrisy. Let Love be the theme of your prayer.
Bhagawan concluded His Discourse with the Bhajan, "Prema Mudita Mana Se Kaho…" At 5.50 p.m. Prasadam was distributed (Wafers and Biscuits) amidst Bhajans and Bhagawan took Aarti at 6.15 p.m.
Bhagawan then walked towards the interview room where the new Toyota car was parked. Everybody rushed towards that side to see Bhagawan using the hi-tech car. Swami sat down on the chair that was projected outside. Sitting on the chair Swami was smiling and talking to a devotee, as the chair began its precise maneuver into the car. It was a joyful moment to see this event. In a few seconds the seat was in its position inside the car – perfectly in its position! There was a loud applause. Of course all could not see this as people in front were standing and peering in all angles.
The car was facing away from the interview room. Therefore the entire hall of devotees was lucky to have one more Darshan of our Lord. The car made its way across the Gents side and then the Ladies side and slowly disappeared into the dim evening light of the Poornachandra Complex. What a beautiful and wonderful Christmas!! May the Christ Consciousness awaken in all of us with the Grace of our Father – our Sai.
(For a full text of the Discourse visit the Sri Sathya Sai Central Trust site www.srisathyasai.org.in).
Sairam


A Anantha Vijaya
---