Parthi Update
Please click here for more news - till the Mtnl server of Sairam Website is restored.
You can access SAIRAM website at http://web1.mtnl.net.in/~sairam for some time. Thereafter it will be changed to http://mumbai.mtnl.net.in/~sairam
---
---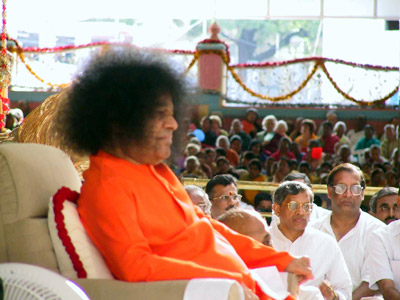 Update from PSN (The Earlier mail had some Incorrect info)

Dear Brothers,

The mail sent yesterday regarding the happenings from PSN had some incorrect information regarding numbers. Please find the text below as correct information regarding PSN happenings. Apologies for the same.

Sairam. Yesterday evening, Bhagawan came out for Darshan by 3.00 p.m. Even before He reached the dais, we saw Prof. Anil Kumar being called into the Bhajan Hall by the Registrar. So we knew that there would be some announcement or a talk by Prof. Anil Kumar.

Later, after the golf cart reached the dais, Swami beckoned Prof. Anil Kumar and started speaking to him. After a few minutes, Prof. Anil Kumar was all smiles and we could see him full of bubbling enthusiasm indicating the mike to be arranged. We all wondered - what could it be? Some good news!! Some declaration!!

He commenced the announcement. It went something like this - Not in his words, but the essence of it. "Today, there is very happy news that I have to communicate to all of you. As part of the 80th Birthday Celebrations of Bhagawan, this year the Grama Seva will be conducted on a grand scale - in a mega style!! All the students and staff of the three campuses of the Institute will be carrying out Grama Seva right from the 17th of October until the 27th of November. This will be on a very grand scale and a magnanimous project, never undertaken in the world anywhere before!! 10 lakh Laddus are being prepared in the canteen for this Seva!! The work has already begun."

Immediately, there was a loud applause from the entire audience. Students, devotees and all present in the Sai Kulwant Hall. Instantly, Swami called Prof. Anil Kumar again and spoke to him. It was clear that Swami wanted him to communicate something else too. Now that is our Lord!! He knows the heart of one and all!! Prof. Anil Kumar smilingly, in his inimitable style came over to the mike and announced, "After hearing about the Grama Seva, the students and parents may be anxious that the vacations have been cancelled. But Swami has decided that vacations will be given!! After the conducting of the Grama Seva and the Birthday celebrations of Bhagawan, vacations will be given for the students to go home and be with their parents." Once again there was a loud applause!!

Well, rest of the evening went on in discussions and deliberations on how such a grand scale Grama Seva would be carried out. The surprising thing is that no other details are known. Swami is literally planning and conducting the entire mammoth project Himself!! We are just awaiting further details. Well, you will be surprised to know what happened in the evening. By 7.00 p.m. dark clouds started collecting in the sky. There was powerful lightning and thunder!! And then it poured like cats and dogs!! Though it had rained earlier this year, we never had such a heavy downpour. Whole night it rained heavily amidst thunder and lightening. In fact, the power failed and we had no power till midnight.

Many of us felt that it was Nature's response to the grand declaration made by Bhagawan. Here was Swami undertaking such a mammoth project - so selfless - for the sake of the villages and Nature contributed in her own way to raise the water tables in the surrounding areas to provide drinking water!! We all felt a sense of awe and wonder at the timing of these events and at the grandness of the venture!!

This morning, we all had gone for Darshan, as exams are over and holidays have begun. Even as Swami came for Darshan, the II PG boys were helping to shift huge bundles from the Poornachandra Hall to the Mandir. What could it be - we wondered!! Swami came and got down and slowly moved towards the interview room. The bundles were opened. Wow!! Wonderful sarees for our Anantapur sisters. The distribution began and went on and on. All were given the sarees! It was almost Bhajan time by the time everything was over.

In the evening, it was the turn of the boys. Swami was out for Darshan even before 3.00 p.m. When He gives, He just cannot wait to give. How eager He is to shower His Love and Grace on all of us. Even as the golf cart reached the interview room, Prof. Anil Kumar was asked to make an announcement. "This evening, special caps and T-shirts designed and made exclusively for the purpose of the Grama Seva, will be distributed to all the boys. They will wear these shirts and caps and will commence the Grama Seva from tomorrow!! This is not being given as part of the Birthday Celebrations. That is different. Birthday Gift will be given separately!!"

Then began the grand distribution! Swami called the School children first and gave them the T-shirts. Swami called one of the school boys and showed him the shirt - opening it. Then He asked the boy to wear the T-shirt. The boy wore it immediately. Perfect fit! The Divine Mother was happy. Then senior Professors and students started distributing the T-shirts and caps to all the boys. First school boys, then Institute boys and then teachers and Professors. Later even old students, waiting boys and even some youth from U.K. who were present in the Kulwant Hall.

Bhajans started at 5.00 p.m. and Swami retired to the Poornachandra Hall. And then you can imagine what would have happened. Meeting after meeting!! First teachers meeting, campus meeting, group meetings and what not!! So the action has begun!!

Join us in spirit, though not physically, in this grand and Divine opportunity!! Let us pray for Universal Peace and Happiness.

Sairam.
Lovingly consented by Anantha of Mumbai
Courtesy : Saibaba News - Posted on 20.10.2004
---
Parthi Update 19-10-2004
This morning, Grama Seva continued in villages along the Parthi - Bangalore road - like Super Hospital surroundings, Mamilakunta Cross, Kappalabanda, etc. In the evening, Bhagawan came out for Darshan at 3.30 p.m. or so. There were talks by three speakers. The first by Sri Shashank Shah an MBA alumnus now pursuing his M.Phil., second by Sri Ruchir Desai - faculty member of Brindavan Campus and finally by Prof. Anantaraman - a visiting faculty from Harvard Business School in our faculty of Business Management. After talks by students and staff, Bhagawan began His Divine Discourse at 4.30 p.m. The highlights of the Discourse are given below:

Students, it is not possible for anybody to disobey the Divine Command. One has to face one's destiny. Fate or Destiny comes as it is, irrespective of your invitation or denial. The world is full of mystery!

The world is made of five elements. The body too is made up of five elements and is bound to perish one day. But the indweller is permanent. The actions of God are incomprehensible. Who can retain this body forever? It will survive till is destined to and not according to one's whims and fancies. The final moment is decided at the time of birth itself!

Man cannot comprehend the design of the Universe. Each one has his own unique experiences. We see bats flying onto the trees and clinging onto them upside down and resting. Why do they do so? Who can understand the reason? Each one's action is preordained. It is not in the hands of man. Everything happens by God's Will! Man's responsibility is to implicitly obey God's command. You have to obey God's command in toto, no comma, no full stop.

Markandeya was born by Iswara's Will. He was to live only for 16 years. This was informed to his parents. As the 16th year approached, his mother started shedding tears. The son could not understand the reason for his mother's sorrow. His father too was very sad. Markandeya asked them, "Father, Mother, why do you cry? Is there any danger to me?" The Mother replied, "Son, you will live only unto 16 years. This was stated by the Lord Himself." Hearing this, from that day onwards, Markandeya lived a very pious life. He would have an early bath, go to the temple of Lord Shiva and chant His name - Om Nama Sivaya.

Finally, there was just one day left for the 16th year to be completed. Markandeya did not return home. Parents were crying wondering what would happen any moment. The moment Markandeya completed the 16th year, he dropped dead. His soul went to Iswara. There a discussion went on. The Lord told him, "You have completed 16 years of your life and have happily come to me. You have acted as per My Will. Therefore, you can return to the world once again." Hearing this, Markandeya pleaded that the Lord too must come down with him.

That instant, Markandeya's body came back to life. Markandeya told his mother that Iswara and Parvati had brought him back to the world. He could now live his life as long as he wanted. He assured that he would spend his life always doing good, without causing pain or suffering to anybody.

This is how God helps man!! It is not just the prayers but also the feelings in the heart that matters. Markandeya never asked the Lord for anything. Therefore a devotee should have rightful thoughts and actions. Markandeya became a Chiranjeevi!

God's Will can never be changed. However, fervent prayers of a devotee can bring about a change in His Will and Divine Design!! Bhakti is not merely a vocal exercise but it must be filled with feelings.

Sankara was born in Kerala. He lived only for 32 years. Then Ramanuja was born followed by Madhavacharya. All of them propogated Bhakti among the masses.

Rama and Krishna both had a form. But what is Iswaratvamu - the phenomenon of Iswara? (At this point Swami materialized a Lingam - a silver base with a small Lingam - much to everybody's surprise! He kept the Lingam on the table and continued His Discourse.) Lingam signifies the Formless. The same Divinity is in all. Since the time of Sankara, Ramanuja and Madhavacharya, Bhakti started rising in the people. The Lingam is a direct manifestation of the Divine. Markandeya worshipped this form of the Lingam.

Without clay there is no pot, without thread there is no cloth, without subtle there can be no gross and without a Creator there can be no Creation!! Threads alone cannot make a cloth. They must be interwoven in order to form a cloth. This is equivalent to the efforts of man.

Today people chant the Vedas. But they are Dongas. Who is a Donga? One who keeps one thing within and acts another way outside is a Donga (Hypocrite). Swami keeps watching all the students. Some of them know the Vedas but they do not chant. That is nothing but theft and betrayal of knowledge. Those who declare what they know, alone deserve the realization of God. There are many (including ladies and young boys who do not know but still chant. The sound within spontaneously comes out). But there are others who know but do not chant.

One must necessarily learn and chant the Vedas. You may chant even within if you wish. Merely learning is of no use. Do not become betrayers of God - Daiva Drohis - by not chanting. Students make such mistakes out of innocence but do not repeat it. All must chant Vedas together. One must repeat God's Name!! Once you start chanting, you will not even need to learn. Some learn Vedam chanting here but leave the habit once they go out. Vedam chanting is not for ostentation or exhibition. It must be practiced for delight, for Bliss. It starts with Karma - Upasana - Aacharana - Chanting - and ends with
Experiencing Bliss. One must start with Karma, move on to Jnana and leading to Bliss! Thus everything begins with Action!

Those who want to be recipients of God must chant the Vedas. It is not enough if you just repeat. You must digest it too. Why is food eaten? Is it just to store it in the stomach? No. It must be digested and assimilated and nourishment must be provided to all the parts of the body.

We say God is everywhere. How? He is in the form of the five elements! Each element is Divine! Together it is Atma Swarupa. Share your learning with others. When guests visit your house, you serve them food but you keep some share for you too. In the same way, you must also repeat, chant and enjoy. Everything has emanated from the Vedic Knowledge. Chant to the extent you know. Do not forget. Certainly, you will experience the Reality. Digest it and share it with others. Then alone, will you find fulfillment in life!!

At this point Bhagawan sat down on the chair. Bhajans began and after three Bhajans, Swami took Aarti and retired for the day.

Sairam.
Lovingly consented by Anantha of Mumbai
Courtesy : Saibaba News - Posted on 20.10.2004
---
Parthi Update
19-10-2004
This morning, Swami came out for Darshan, sat for a while outside. Then He gave instructions regarding the Grama Seva and went into the interview room. Today we were to cover Gokulam, Yenumulapalli, Brahmanapalli and nearby villages. Swami asked us to go later as it was too early. We left for Grama Seva by 9.45 a.m. Whereas yesterday, all boys had gone for the Seva, today onwards only half of the boys will be going for Seva everyday. So a boy gets a chance to go on every alternate day.
In the evening, Bhagawan came for Darshan. Again we had talks by students and elders. Subsequently we were expecting a Discourse from Bhagawan. However, Swami got it announced that there would be a programme by the children of the Hyderabad Balvikas. Swami said that they have been waiting for a long time and today they will be making their presentation.
The children put up a good presentation titled, "Ashta Guna Pushpalu' in Telugu. It was 4.30 p.m. and the programme went on till 5.45 p.m. The presentation highlighted the eight flowers of virtues:
1) Ahimsa – through the story of Buddha and Angulimala
2) Indriya Nigraham (Sense Control) – through the story of Suka and Janaka
3) Sarva Bhoota Daya – through the episode of Sant Ekanath
4) Kshama – through the incident of Draupadi and Aswattama who had slain the children of the Pandavas
5) Satyam – through the life of Harischandra (the final episode in the cemetery)
6) Tapah – through the story of Janabai and Panduranga
7) Dhyana – through the life of Dhruva
8) Shanti – through the story of Jadabharata
Bhagawan retired to Poornachandra at 5.45 p.m. after Aarti.
Sairam
---
Parthi Update
18-10-2004
Dear Brother
Sairam.
The Veda Purusha Jnana Saptaha Yajnam commenced in a grand manner yesterday morning. Swami came out by 7.30 a.m. Vedam chanting was going on continuously. After a while the Pundits came into the Bhajan Hall. Meanwhile Swami distributed Red Dhotis to some of the Vedam boys of Brindavan, Prasanthinilayam and School.
Around 8.30 a.m. we proceeded to the Poornachandra Hall, after taking a Pradakshinam around the Mandir. By 9.30 a.m. the Pundits were initiating the Yajnam by creating the sacred fire in the ritualistic way. That is by creating fire through friction between wood and wood. It took a long time but finally they were able to generate enough heat to spark the fire and commence the Yajnam.
By 10.00 a.m. Swami gave instructions for the boys to leave for Grama Seva. We covered full Puttaparthi Village. In the evening, Swami was out by 3.45 p.m. There were talks by students and staff. Subsequently, Swami Blessed us all with His Divine Discourse. The highlights of the Discourse are given under:
For all actions, creation and sustenance – God is the foundation. Nobody has any authority to question God relating to the happenings in Creation. He can do whatever He wants, for anything that He does is for the welfare of this Universe.
In this world, every tiny task is accomplished by His Will. From your standpoint, some events may be sad or miserable. But from God's viewpoint, there is nothing like that. Whatever is done is for the progress of the human beings.
Some may feel as to why God is putting them through so much suffering. But from God's point of view, there is no suffering. We must be convinced that whatever happens is for our good.
Today we want more and more intelligence but we are not cultivating any virtues. Without virtues, what is the use of everything else? Since ages people have been stressing on the cultivation of values and character. Mere intelligence is not enough.
The purpose of Navaratri is to cultivate good qualities and virtues.
The highest title that a man can acquire is to be a 'man of faith'. When we have faith we can believe in God too. And when we have faith in God, we will have faith in everything else.
We must have faith in the snake but not in it's poison. However, once we have faith in the snake, it's poison too will not affect us. 'Yad Bhavam Tad Bhavati'.
The Vedas and scriptures have always emphasized on the aspect of Faith. However, we believe in the newspapers but not in the scriptures of our ancients. We get easily carried away by what others say. Today we need to develop Self-confidence and Faith.
When branches brush against each other, fire arises and this fire burns the very tree itself. Similarly, ego is the fire that arises in man and burns him in turn.
Parikshit, in order to explain the omnipresence of God to his disciples, arranged for 10 pots. He filled all of them with water and kept it out in the sun. The sun was reflected in each pot. The sun is only one but so many reflections! If there is no water, there will be no reflection. Similarly, the body is like a pot. All the Vasanas are like the water in the pot. Water is same but pots are many. When thoughts are dirty, reflection too is dirty. Good or Bad depends on your thoughts. You are the center of your own pain or pleasure.
Do not depend on the pot of body or on your monkey mind. Have faith in yourself. The sun is one but each sees it differently. When we say it is sunset here in India, people in USA perceive it as sunrise. You cannot have any argument about this. Both are true. It is only the time and the way of looking that makes the difference.
We are responsible for any bad feelings within us. Everything is Reaction, Reflection and Resound. These three confuse man and are responsible for all ups and downs in life.
Students understand spirituality. Develop the spirit of oneness. Think "I am only ONE". Mother, wife all these titles arise out of relationship. Have faith not in relation but in the real-nation, in the Self!!
Love is within you. All external love are on account of relationships. God is your only true friend. He will never betray you. All changes occur in you and not in Him. God's Love is changeless. Whatever suffering / changes you undergo, God belongs to You – You belong to God!!
There is no enemy in this world for there is only One! There is no second. Forgetting the Divine Love we are all intoxicated in Deep Wine. Leaving the Divine, we are going behind fleeting pleasures.
Mother is Mother only because she has given birth to you. Somebody teaches you and he becomes a teacher. All these are based on relations. They are passing, like pictures on the screen. But you must have the Divine picture imprinted on your heart and must have strong faith in it.
God alone is the true Guru. Consider yourself Divine. God is inside you, within you. Be convinced that 'I am I'.
Bhagawan concluded His Discourse with the Bhajan, "Prema Mudita Mana Se Kaho…".
Lovingly consented by Anantha of Mumbai
Courtesy : Saibaba News - Posted on 19.10.2004
---
Parthi News : Gram Seva 2004 - Bhagwan's Direct Command to Students
Swami has today distributed caps & T Shirts with the Logo of Gram Seva is Ram Seva to all the Students. Swami has designed 40 days Gram Seva Project for all the boys to reach out to all the 150 Villages in the Sri Sathya Sai Taluka. Swami has declared that HE would distribute 80,000 Sarees, Dhoties, and 80000 food packets per day. Swami has commanded the boys to go to very village & do Bhajans & Nagarsankirtan and talk to the Villagers. Parthi is in a festive mood & Swami is in Gram Seva mood distributing lots of love in the form of clothes, food to the Students for sending them to the villages.
Parthi News : Gram Seva 2004 - Bhagwan's Direct Command to Students
Swami has today distributed caps & T Shirts with the Logo of Gram Seva is Ram Seva to all the Students. Swami has designed 40 days Gram Seva Project for all the boys to reach out to all the 150 Villages in the Sri Sathya Sai Taluka. Swami has declared that HE would distribute 80,000 Sarees, Dhoties, and 80000 food packets per day. Swami has commanded the boys to go to very village & do Bhajans & Nagarsankirtan and talk to the Villagers. Parthi is in a festive mood & Swami is in Gram Seva mood distributing lots of love in the form of clothes, food to the Students for sending them to the villages.
Sai Ram !
Posted on 16.10.2004
---
Summary of News from Prasanthi Nilayam - 12.10.2004
Swami has been walking unaided in Mandir Portico many a times, especially while walking from interview room to bhajan hall.
Sri Sathya Sai Gram, Muddenhalli boys have put up a couple of nice dramas,one on "Bhakta Bheeshma" on Saturday afternoon. There was a small music programme by music college boys before the drama.
After two days Sri Sathya Sai Mudenhalli boys presented a drama on Shirdi Sai Baba's life story.
Announcement

Sri Sathya Sai Gram Seva - 2004 by Sri Sathya Sai College students will begin most likely on the 16th October, 2004 in villages around Puttaparthi. The Gram seva will go on till the 22nd October, 2004.

Jai Sai Ram !
Posted on 14.10.2004

---
Parthi Report - 08-10-2004
Dear Brother
Sairam. This morning our cricket hero Sachin Tendulkar had come to have Swami's Darshan. Bhagawan was on His way during Darshan, when Mr. C. Srinivas ushered in three gentlemen; one was Mr. Prasanna, the second Mr. Sachin Tendulkar and third unknown - into the portico. They were seated right in front. Swami's golf cart came beside the interview room. Swami smiled at Sachin and spoke a few words.
However, the golf cart continued. Bhagawan got down at the other end of the portico. He spent some time speaking to some VIP's over there and then moved towards the sofa. From there, He came back towards the interview room. He called the three gentlemen inside.
Later they left Parthi. Hardly anybody came to know about their arrival and exit. By the time we went in the evening, none of them were there. This evening, the Mudenahalli students were ready with a music programme. Swami called our Warden and asked him to bring the Mudenahalli boys in front.
A group of singers came forward and sat right in front of Swami, across the grill. They sang a number of songs - Telugu, Hindi and obviously Kannada. Swami was enjoying the songs throughout, keeping beat with His hand. Towards the end, He asked them to sing songs in particular languages. He said 'Kannada' and they sang in Kannada. Then He asked for Hindi, but they had no stock left. So they continued in Telugu.
The programme concluded by 4.30 p.m. Then Swami spent almost 20 minutes talking to them. All the tiny toddlers surrounded Swami. He asked each one of them what they were doing. One boy got a ring!! The rest of the Mudenahalli students who were sitting near the car garage were straining their necks to catch a glimpse of the wonderful chance their brothers were getting!
Swami distributed some colourful books (on Swami) to the boys. Then Prasadam (Laddu) was distributed to all the boys. Again, Swami spent some time talking to the boys in Kannada. By now it was 4.50 p.m. He gave them group photographs and then asked them to sing Bhajans.
The young one's started singing Bhajans. After two Bhajans, Swami smiled and got up. As He slowly walked towards the centre of the dais, they finished the third Bhajan. Swami took Aarti and got into the golf cart.
By 5.00 p.m. we all were busy moving out of the Kulwant Hall!
We could see the Mudenehalli boys very excited and full of joy and ecstasy.
Earlier the scene of their crowding around Swami appeared to us like bees hovering around the rose trying to drink the nectar. From front view, we could see all black heads like bees buzzing along the brass grill and in the midst was Swami's beautiful smiling face like the rose overflowing with Divine Nectar!!
No doubt they were so full of joy!
Sairam
Posted on 11-10-2004
---
30.09.2004
Om Sri Sai Ram

Hope You got some holy minutes of Your life to take inside Your Self what is told so sweet on our beloved Lord in a mail from our Nilayam.
Dive in the Divine. So the Sai-Sun will be shining on You and Your Self will effulgent.
We are One.
Jay Sai Ram
(...)This morning, being Guru day, the younger students were present for darshan. Swami came in at about 7:08 and continued all around the men's section, taking a few letters along the way. His hair is so long now that His face looks smaller. The hair flows over His collar behind and completely covers His ears at the sides. He walks still with a slight limp. This morning He stood for quite a long time at the railing in front of His chair speaking to a young student. After a while He circled His right hand in wide arcs and created something for the boy. For some time He had the young students do the chanting, just to hear maybe how they themselves are progressing in their Vedic studies. The Vedas are certainly taking prominence here as He had promised long ago.

Later He moved backwards to His chair but before doing so turned slight to His right. What a sight! The morning sun was shining on Him and He became effulgent. Imagine, the sun shining on Himself, to radiate Himself. When He sat down the sun continued to shine on His right side. He sits more to the left side of His chair, sometimes leaning towards the right. Occasionally He would speak with devotees near His right but mainly He looked outwards towards the students or the crowd. Just before 8 a.m. He gave permission for the men to leave and attend to their duties; people seated to His right then made their pranams and began to depart. Soon He too got up and went into the interview room.
(...) One thing sweet happened this morning as Swami was leaving. The cart stopped at the column on the ladies side closest to the ramp of the veranda. There an older woman (I think someone associated with the young boys hostel, or maybe a teacher) stood up and went to the cart. She was allowed to take Swami's right hand, bring it to her forehead, and then bring it to her lips and then kiss it. Sooo tender it was.

We heard this evening that Swami's new residence is scheduled for completion by Dasara. The laborers are working very hard to get it ready. There are two new buildings coming up, one for Swami Himself, the other for special quests. (...)
«««

The mail was sent on 3.10. and is belonging to Guruday, 30.9.2004.
---
28-09-2004
Presentation on Kshama
This evening Bhagawan was out for Darshan even as we reached the Mandir at quarter past three. He had already gone inside the interview room. As Bhagawan had been enquiring about programmes by boys, the II PG and I PG students were ready with yet one more programme on the theme "Kshama – the crest jewel among noble virtues". This presentation involved as many as twenty plus characters. A lot of costumes! Those who were playing special roles were going through the 'make up' drill inside the Bhajan Hall. There was king Parikshit, Shringi, sage Sameeka, Lord Rama, Vibheeshana, some sages, Lord Buddha, Lord Jesus and my, a number of them!!
Suddenly, Swami came out of the interview room at around 3.35 p.m. and went into the Bhajan Hall. Now this was a real surprise! Swami went towards one woman and Blessed her. Then, He went from one character to another and spoke to each one of them, asking them about the roles to be played by them. This was just great! These boys, inspite of their exams just around the corner, placing their faith in the Lord, had jumped in, to prepare for this presentation – giving considerable time and effort from their side. What a response Bhagawan showed to their spontaneous involvement!
When we go out of the way to offer ourselves for Him, He too goes out of the way to offer Himself to us!! A beautiful case of Reaction – Reflection – Resound, coupled with His Grace of course!! Talking to them, Bhagawan mentioned, "Yes, you all are talking and acting very well, but are you practicing?" One line from Him and we all were shown where we actually stand!! Once, long back, Bhagawan had beautifully remarked, "The difference between God and Man is this: God knows everything but still pretends that He knows nothing, while Man knows nothing but yet tries to put up a show that he knows everything!" Swami spent almost 10 to 15 minutes with them and then proceeded to the interview room.
No doubt, boys were charged and were waiting to offer their best at Bhagawan's Lotus Feet. There were a number of students who were appearing on stage for the first time, some even performing for the first time! But what was most important was their Love for Bhagawan and that would take care of all else.
At 3.55 p.m. Swami came out of the interview room and proceeded to the dais. He sat on the sofa and VC made the usual introductory remarks. What followed was a 45 to 50 minutes presentation on the concept of Kshama. It may not have been a very top class presentation, given the fact that there were several first timers and just a day of preparation; however in terms of content and coverage it was a praiseworthy effort. Most of it was based on the Discourse given by Bhagawan during Summer Course 2000 on Kshama.
The presentation started with the episode of King Parikshit seeking water in the forest. Out of fury, he places the snake around the neck of the sage Sameeka. Later, the son of the sage, Shringi curses king Parikshit. Watching this, the father, sage Sameeka admonishes his son for reacting in this violent manner. He stresses on the need for Kshama especially for a sage like him.
Thus introducing the presentation, the first pair of anchorers, stood up and formally began the programme. The presentation was divided into four modules;
1. What is Kshama?
2. Why should we develop Kshama?
3. What are the benefits of developing Kshama?
4. How do we develop Kshama?
The first module described the difference between tolerance, patience and forbearance. The closest translation of Kshama in English is possibly Forbearance, though it is still not accurate. Kshama is much more. It also includes Forgiveness. They illustrated these concepts with examples from the lives of Prophet Mohammed and Lord Jesus.
The second module discussed about the relevance of practicing Kshama in day to day life. Life is full of uncertainty. Actions are in our hands but results are beyond our control. Therefore, disappointments are inevitable. To face these ups and downs of life, Kshama is a must! It is the very breath of one's life. Again diversity is inherent in creation. Hence, no two minds think alike. Yet, we need to learn to accept each other's views and accommodate each other's interests. It is Kshama that enables us to accomplish this.
The third module elaborated on the benefits of practicing Kshama. The greatest benefit is the presence of balance in life. Practice of Kshama gives us a sense of equanimity. We are able to take happiness and joy in a neutral manner. It gives us courage to face the challenges of life. It raises our EQ (emotional quotient) and results in the manifestation of Love for all.
The final module went on to discuss the ways and means of developing Kshama. The first is to make a resolve and hold on to it. Faith in God is a must with the feeling that "Whatever happens is for our good". The best way to develop Kshama, Bhagawan says, is to welcome sufferings in life just as Mother Kunti did by praying to Lord Krishna to always Bless her with difficulties and pain. Kshama goes hand in hand with sacrifice and selflessness. We must focus on the long term goals and not just the short term benefits.
In this episode, several examples from Bhagawan's life were narrated where He has manifested Kshama of the highest order. To quote a few: Swami lifting the water in pots on His shoulders during the school days in Uravakonda, the incident of protecting the woman who actually tried to poison Bhagawan with her Vadas, etc.
There were a few songs in between and some verses like that of Tyagaraja, "Kapivaradi Datuna….", "Astikulaku Sai Sharanam Nastikulaku Sai Sharanam…". The presentation ended with the song, "Humko Man Ki Shakti Dena Mana Vijaya Kare…". All boys knelt down in a semicircle. Swami smiled but did not call them for photos. Instead He asked for group songs to be sung.
The Music boys got into action, opened the Sai Vandana book and chose a few Telugu songs. After a while, Swami indicated to the student dressed as King Parikshit to come forward. He went to Swami and there, with a wave of His hand, Bhagawan materialized a green diamond for the king! The boy was thrilled! Others proceeded forward and soon all groups were busy arranging themselves for photographs. Parikshit stood next to Swami all the while!
Prasadam was distributed and then Bhagawan praising the boys for a good acting, proceeded towards the golf cart.
29-09-2004
This evening, Prof. Anil Kumar was blessed by Bhagawan to speak to the Kulwant Hall gathering. Sir described at length various experiences of the bygone years related to the incidents in Krishna District of Andhra Pradesh. Incidentally, a number of devotees from Krishna District had come to Parthi and were enjoying every bit of his talk. Prof. Anil Kumar made his 45 minute talk so gripping by narrating incidents in Telugu – of course in his inimitable poetic style and then also expressing the same views in English for the benefit of non-Telugu people. He did this with such finesse that only a man of his stature can! Towards the end he spoke about the forthcoming exams and appealed to students to study well. He also shared with the audience the uniqueness of our Institute and its education philosophy.
This was followed by Bhajans.
30-09-2004
Yakshagana Roopaka (Alike Brothers)
This evening Bhagawan came out for Darshan a few minutes past three. The Alike students have come here to Parthi and this evening was slotted for their programme. Therefore, the central part of Kulwant Hall was left free and all of us squeezed ourselves in the balance area.
As Swami's golf cart came gliding in, the dozens of students participating in the programme were seated in the rear part of the Hall behind the lions. As Swami's cart rolled by, He looked and smiled at them. The group was full of wild colours – all shades that you can imagine. Well, this will become clear when you know what the programme was all about. The presentation was a 'Yakshagana Roopaka' dance drama. This is a traditional folk dance of the Karnataka State. Something like Kathakali of Kerala but not the same of course.
So we had a variety of characters dressed in jazzy colours, some Rakshasas, some kings, some queens….Well, the theme was 'Sri Rama Darshanam'. So we had the entire range of characters that appear in Ramayana. Young children, but camouflaged in the rich costumes. Swami went onto the dais, got down, but then walked back towards the interview room. He went inside and came out at around 4.00 p.m. He sat down on the sofa amidst a loud applause and asked the Principal of the Alike campus to commence the programe. He called the VC and Prof. U.S. Rao and made them sit beside Him. Sri Bhatt Garu spoke a few words of introduction.
The Yakshagana is a combination of musical narration, dance and drama. Here, usually the characters speak, but the novelty of this presentation was that the characters did not speak, but gave expression to their thoughts and feelings in their dance and actions. They presented several scenes from the Ramayana. It started with sage Viswamitra arriving at Ayodhya to meet Emperor Dasaratha to take Rama and Laxmana to his hermitage for the protection of the yajnas.
From where we were sitting, we could see both the front stage and even the back stage (i.e. behind the backdrop). So we could see all the actors getting ready for their roles, the tutors giving them last minute instructions. Hearing the same drum beats and the typical dance steps repeating again and again, we felt a little monotony. But then, I noticed something which shook me up and got me absorbed in the programme for the next one and a half hour. The boy acting as Rama was getting ready to make his appearance even as Viswamitra was seeking the boons from Dasaratha at the front end (i.e. in front of the backdrop).
As the boy acting the role of Rama was getting his best wishes from his tutor, I could see the feelings in the eyes of the boy. This was a lifetime chance for him and he was about to perform in the Divine Presence! As he was about to make his entry, he bowed down and touched the feet of his teacher! This truly touched me. What sincerity and devotion!
Above all, this is the touchstone of our Bharatiya culture! Everything is raised to a noble level. Even a performance is considered as an offering to the Guru and God! Blessings of elders and especially of the guru is considered so vital. This incident revealed the eternal thirst of man to reach out for the ultimate through every endeavour of his. Every form of Art is but an expression of that Supreme Principle and therefore becomes a means to reach out to Him!
With these feelings the lively dance took up a new meaning and got reflected in the keen interest that Swami was showing in every scene and act! After the killing of Thataki and Subahu, they went on to depict the redemption of Ahalya, Seeta Swayamvara. Next came the Kaikeyi – Manthara episode followed by Rama going to the forest. There the scenes of Guha taking Rama across the river, the killing of Viraadha, the insult of Soorpanakha, salavation of Jatayu, freeing Kabandha from the curse and showering Grace on Sabari – all were beautifully depicted through costumes, dance and expressions. A professional singer was singing in the background in Kannada.
Next in the dance drama came Hanuman, friendship of Sugriva and Rama, killing of Vali, surrendering of Vibheeshana and finally concluded with slaying of Kumbhakarna and Ravana. The final scene was the Pattabhisheka of Rama (coronation of Lord Rama). The entire presentation lasted for around an hour and a half. But time passed by so quickly that we could hardly feel it.
Hanuman went running towards Swami. Soon all followed and sat all around Swami's chair. Patiently, Swami gave photographs to all of them. Subsequently, the artistes and professional music team also got the opportunity of getting a photo with Bhagawan. It was 5.45 p.m. by the time Swami retired to Poornachandra Hall. As the golf cart disappeared from our view, Prof. Anil Kumar arranged all the artistes in a beautiful semicircle along with their teachers and artistes and we gave a loud applause to all of them. Very thoughtful of Prof. Anil Kumar. This gives so much encouragement and a sense of fulfillment to both sides!
Regards
From a sai devotee - Posted on 04-10-2004